"When we saw our painting, we couldn't believe how absolutely she had captured our daughter. This is now our most treasured possession."
Minnie's mother.
Look in the Gallery for Minnie's portrait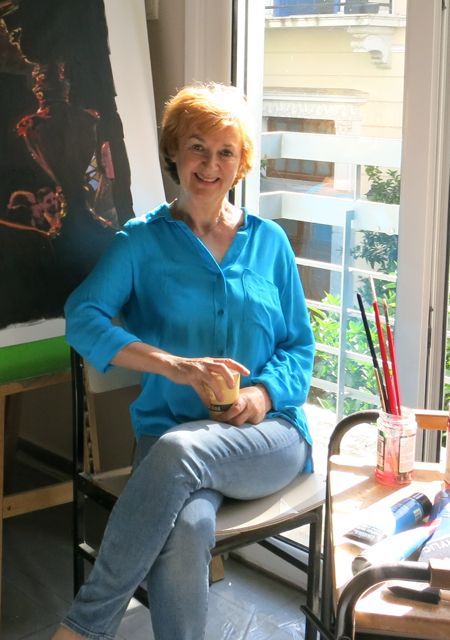 Elspeth in her sunny studio in Makri St in Athens, Greece
Welcome to my site
"I specialise in portraiture because I find people interesting. During a sitting you want to find the essence of your sitter's personality. So over three or four sittings you get to know the person, which is always rewarding.
Painting children is a different matter. Few can sit still long enough for an artist, even a photographer has difficulties capturing the right image. So I have developed my own system for painting children's portraits. (Go to 'How I work' to read more about the process of painting children.)
I have focussed on young children mostly for the pleasure they give me to paint. When I finally send a completed portrait back to the parents I feel sad, as if a friend has left the house. Some children are so adorable that to paint their portrait is an absolute pleasure.
Children between the ages of 2 and 12 are the ideal age in my view. They are formed enough to sense who they are and for an artist to portray who they will become. Too innocent to be cynical, the young child is at their most beautiful.
I want to capture that perfection as realistically as possible."